March 19, 2018
Dr. Robert Caccavale is one of the two-man team of surgeons successfully running Thoracic Group. Along with Dr. Jean-Philippe Bocage, this dynamic duo is renowned for their innovative work in the field of video-assisted thoracic surgery (VATS).
We took a moment to chat with Dr. Caccavale to learn more about about him and what makes him tick.
Q. What inspired you to become a doctor?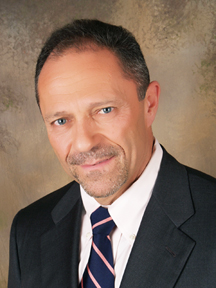 A. My father died of lung cancer when I was eight. This tragic event stimulated a lot of thought about medicine and the like over my younger years.
Growing up, I did a lot of things that involved helping others—I worked in a veterinarian's office, I worked as a respiratory therapist and I was basically working in hospitals from the time I was 17.
Eventually, I was fortunate to get into medical school, then places like NYU and Downstate. The rest, as they say, is history.
Q. Why did you choose the specialty you're in?
A. What I went through with my dad obviously played a big part, but it was also a book I came across called The Making of a Surgeon by William Nolen, who worked in Bellevue [Hospital]. He was a chest surgeon in the trenches in the 1960s and it was also fascinating and inspiring to me. I was a respiratory therapist so I was familiar with the ventilators and all the other things that come with breathing issues, so in that regard it was a natural fit. Ironically I chose NYU Bellvue for my surgical training and it became clearer to me that thoracic surgery is what I wanted to do.
Q. Knowing what you know now, what would you tell your younger self just entering medicine?
A. Don't get seduced by success. Some people are overwhelmed by it and some never grow out of it; this is true for many professions. The healthcare system is constantly changing so just keep in mind the real reason why you entered medicine—to help people.
Q. Where do you see thoracic surgery going in five to 10 years?
A. I think thoracic surgery will continue to play a prominent role in treatment options for many conditions. Thoracic surgery encompasses a vast spectrum of conditions from cancer to excessive sweating.
As for its use in thoracic oncology, I do see it working more closely with medical treatments to arrest cancer for better outcomes. It's obvious that, as we learn more about cancer, we realize that it is a systemic problem and generally present for many years. We are targeting cancer cells while sparing healthy cells better and better every day. This won't eradicate surgery, but it will definitely become a more collaborative effort as time goes on. Prevention is still the best strategy for all cancers. We can promote smoking cessation, clean up the air so we are not inhaling chemicals, and guide people to lead a healthier lifestyle overall.
The evolution of thoracic surgery has become less and less invasive for all conditions, and I see that trend continuing. For example, ETS surgery for hyperhidrosis has become a completely outpatient surgical procedure over the last few years with patients going home in just a few hours.
Q. Is there a particular case of yours that had an impact on you, good or bad?
A. Hmm. I can only think of one specifically, but it was not a positive outcome. It was during my fellowship in cardiac surgery on the pediatric services. A four-year-old patient died on the operating table, a child that I had been smiling and playing with only the day before. It was a serious reality check and, quite frankly, heartbreaking.
I have had a lifetime of success of providing compassionate care and good results and helping, but it's cases like those that really humble you; make you a better person, patient advocate and grounded in your purpose.
Q. Since you've been working together for so many years, what do you think makes you and Dr. Bocage such a successful team?
A. It is unusual to have two surgeons work so closely on a daily basis. Video Assisted Thoracic Surgery, a technique that we pioneered more than 25 years ago, was based on four small incisions with the hands of two skilled surgeons. This approach has fostered our continued ability to work collaboratively to the benefit of all our patients. Our collective hands and minds bring two skilled surgeons together to perform complex surgical procedures in dramatically reduced operative times. Our combined experience and sometimes diverse thought process enable us to come up with the best path for each patient. There is a lot of give and take and being considerate, flexible and appreciative of each other.
About Thoracic Group
At Thoracic Group, our award-winning team of surgeons was among the first to perform video-assisted thoracic surgery (VATS) over 20 years ago and has successfully performed more than 7,000 VATS procedures since––both locally and nationally. As a practice, we are fully committed to providing the best comprehensive care for patients with thoracic conditions.
For more information or to schedule an appointment with one of our specialists, contact us today.